MENU
We use high quality『Kobe Beef』and make use of "umami" of the materials in the arms and skills of our chef. Please enjoy and appreciate the gems of a variety of beef dishes.
All prices are tax excluded
Course Menu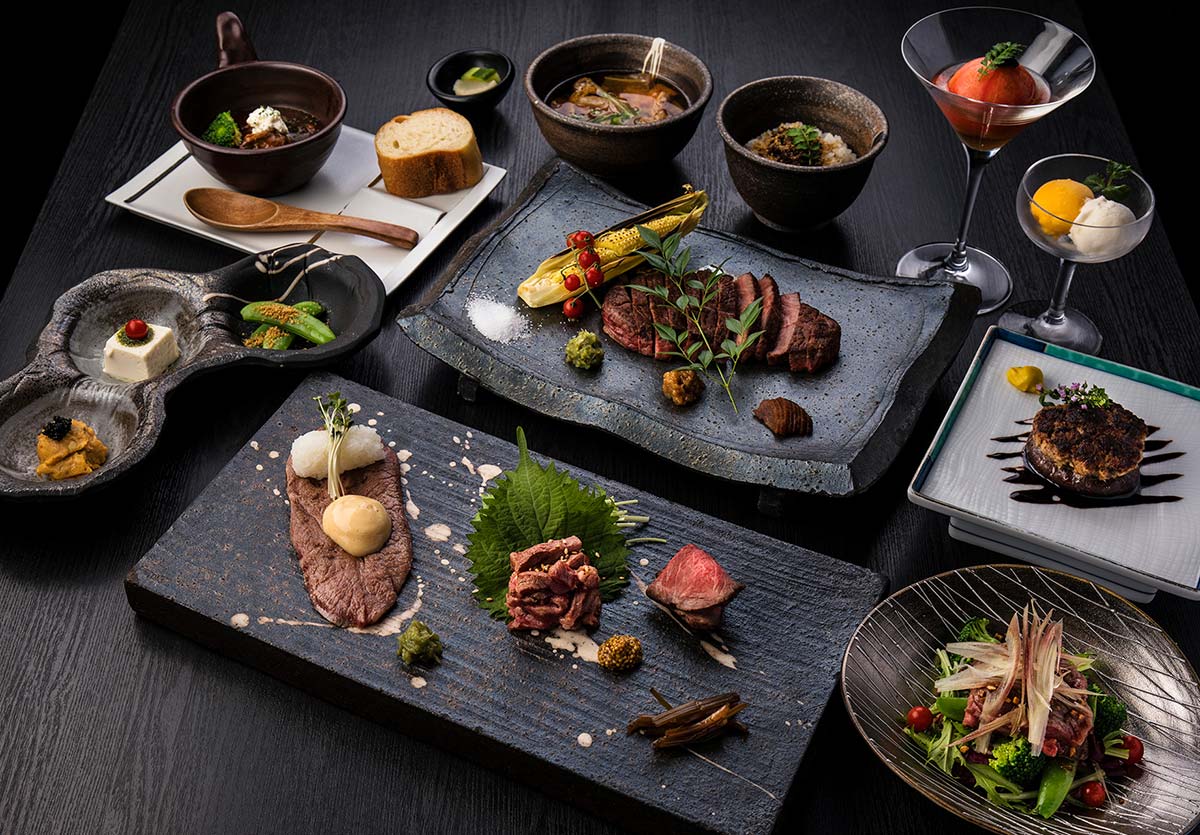 Premium Rich Beaf Course
Gururi's famous dish, Misuji Steak 120g is main dish's steak course. Appetizers, salads, beef sushi, hamberg, aburi yukke (slightly grilled yukhoe), roast beef, beef stew - highest quality of beef dishes are on parade. Enjoy「Gururi」to your heart's content. Highly recommend for anniversary celebrations, and more, for beef lovers.
15,000 JPY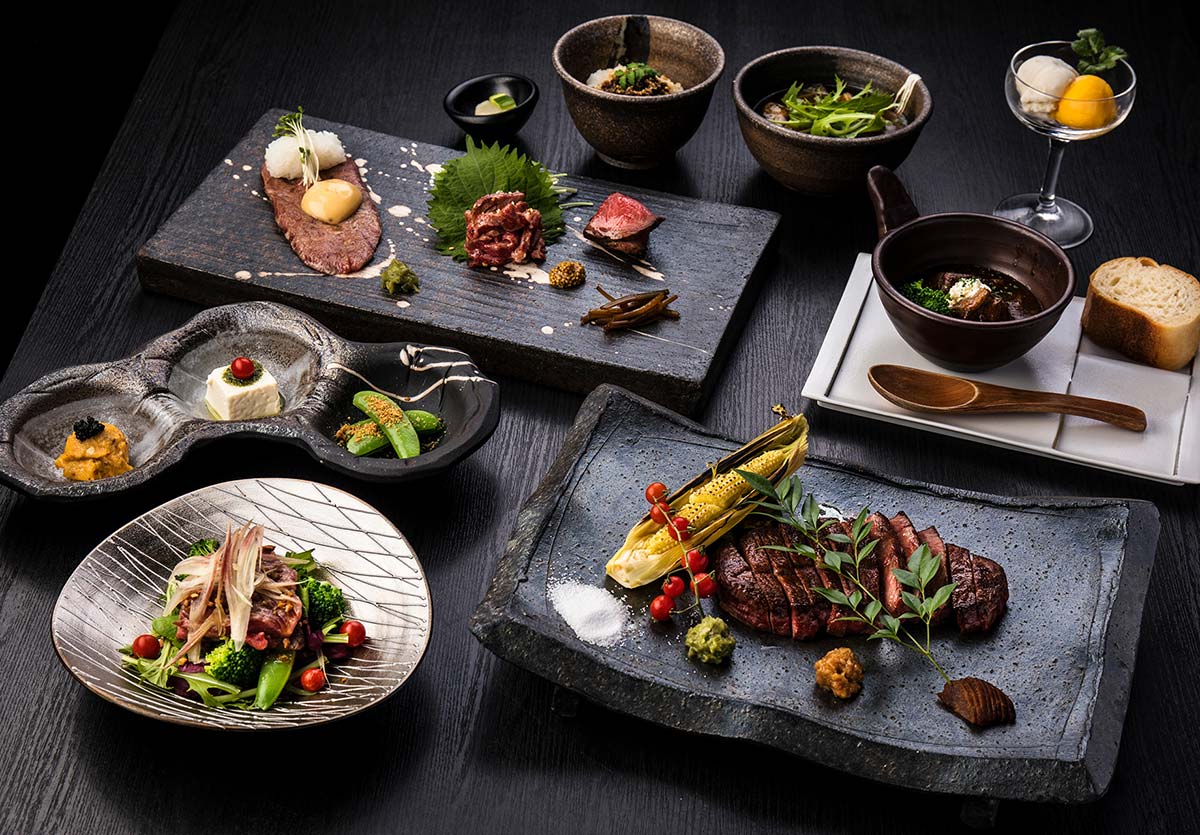 Rich Steak Course
This light lean meat can be enjoyed via this steak course. Appetizers, salad, beef sushi, aburi yukke (slightly grilled yukhoe), roast beef, beef stew - Chef Tamura's pride are also in the line. For those who prefer a light quantity, ladies who care about exceeding calories, this course menu is for you.
10,000 JPY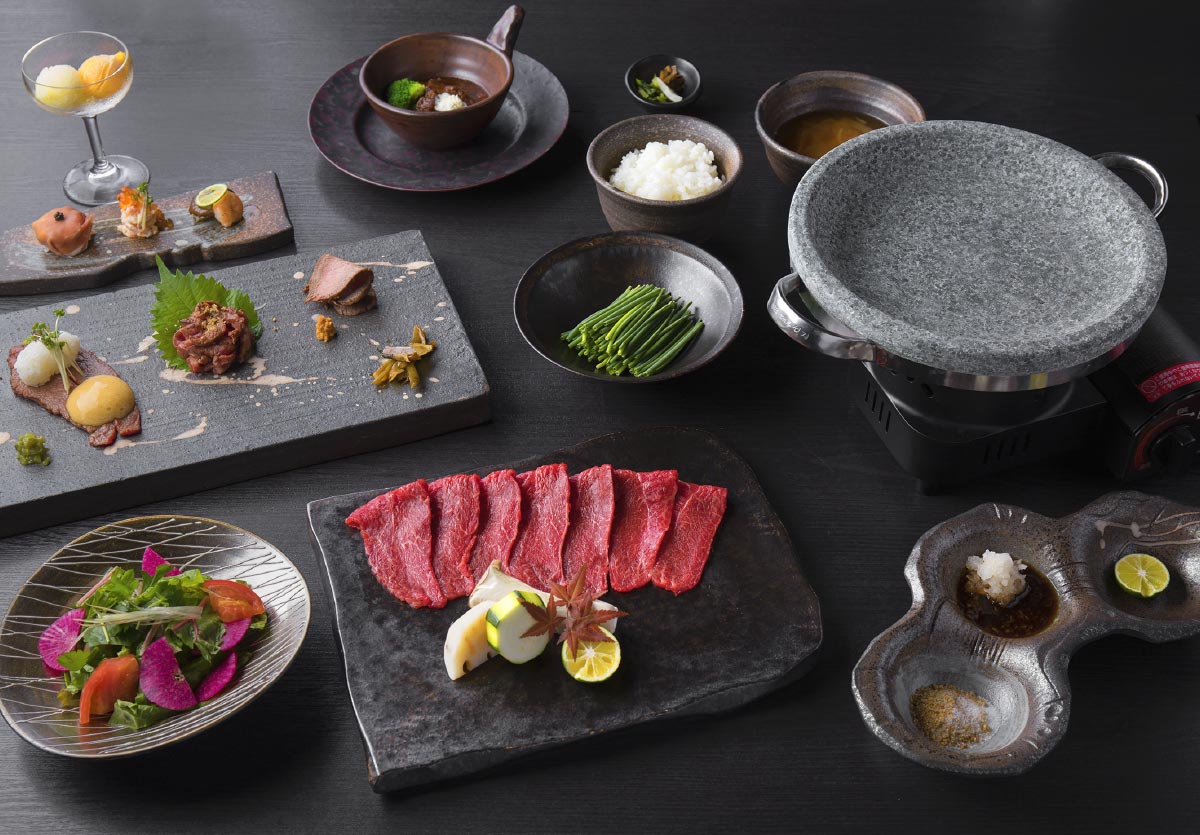 Stone grilled steak Course
Grill beef on hot stone for awhile and rolled with green onion,dip with sesame and salt. Enjoy the original taste of fresh red meat.
¥8,000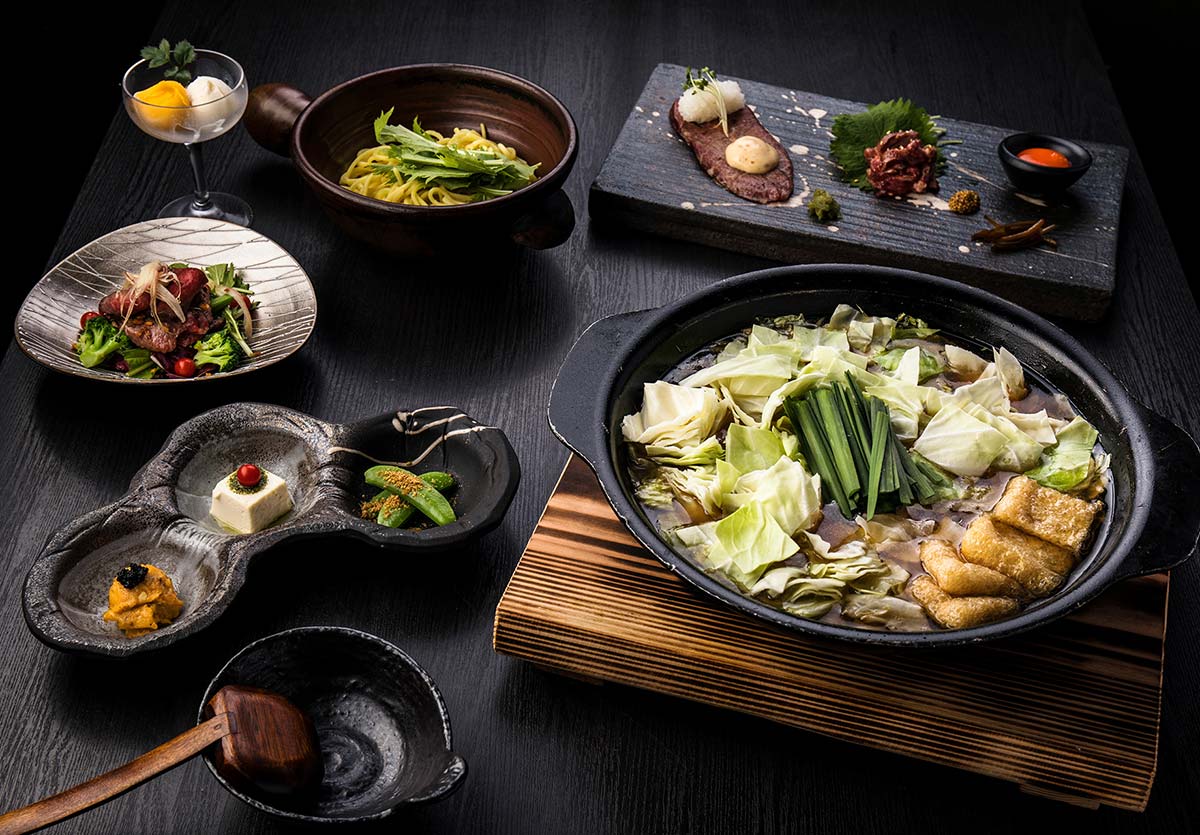 Hotpot with wagyu innards Course
Normally, only Motsu-nabe with various kinds of beef mixed together are served. However, at Gururi, our Motsu-nabe is specially detemined from the time of purchase. Only the innards of Tajima cattles are used. It is a very rare occation to see Motsu-nabe with only Tajima cattle innards. Its sweet taste is a perfect combination with the Sesame soup. Please slowly enjoy its profound taste.
6,000 JPY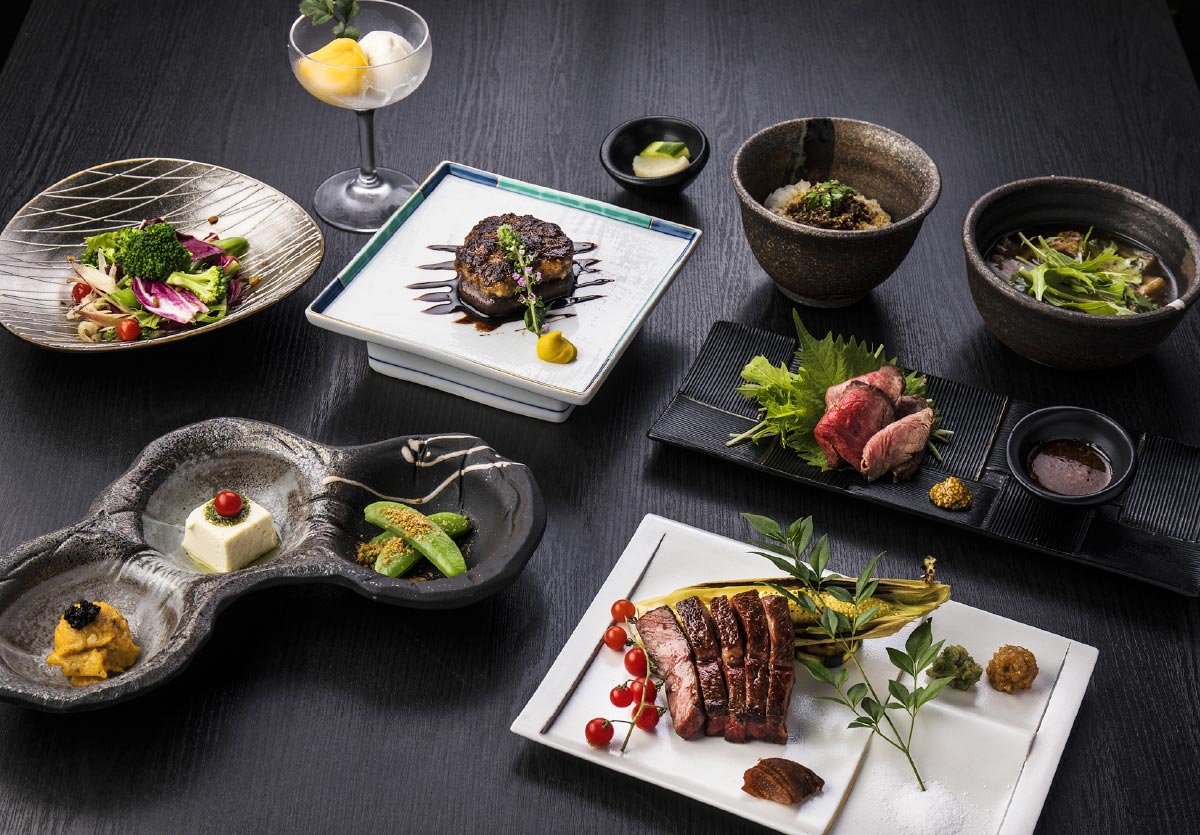 Hot plate Course
Course are welcome for first-time visitors or repeater who always support us, You will enjoy with roast beef, steak and hamburger which are our the main course.
¥5,000
RESERVATION
We accept reservations for
course menu・banquet・reception etc.
Drink Menu
Beer
| | |
| --- | --- |
| Tanada Rice Beer | 800 JPY |
| Ebisu Premium | 600 JPY |
| Ebisu Bottle | 800 JPY |
| Non-alcohol beer | 500 JPY |
| Shandy Gaff | 800 JPY |
| Cassis beer | 800 JPY |
Highball (whisky and soda)
| | |
| --- | --- |
| Dewar's highball | 600 JPY |
| Yuzu highball | 650 JPY |
| Ginger highball | 650 JPY |
| Cassis highball | 650 JPY |
| Hakusyu highball | 800 JPY |
| Yamazaki 12 Years highball | 1,850 JPY |
| Hibiki 21 Years highball | 5,600 JPY |
Wiskey
| | |
| --- | --- |
| Hakusyu | 800 JPY |
| Yamazaki 12 Years | 1,850 JPY |
| Hibiki 21 Years | 5,600 JPY |
Shochu
Ginza no suzume
[glass]800 JPY
[bottle]4,800 JPY
Kirishima Kichisuke
[glass]800 JPY
[bottle]4,800 JPY
Kanehachi
[glass]1,200 JPY
Maoh
[glass]1,200 JPY
Hyakunen no kodoku
[bottle]24,800 JPY
Tenshi no yuuwaku
[bottle]128,000 JPY
Fruits liquor
| | |
| --- | --- |
| Ume shu (plum sake) | 600 JPY |
| Tsuruume Yuzu shu (citron sake) | 800 JPY |
Cocktails
| | |
| --- | --- |
| 【Cassis】 | |
| Cassis orange | 800 JPY |
| Cassis soda | 800 JPY |
| 【Peach】 | |
| Fuzzynavel | 800 JPY |
| Peach soda | 800 JPY |
| 【Gin】 | |
| Ginback | 800 JPY |
Wine cocktails
| | |
| --- | --- |
| Cassis Spritzer | 800 JPY |
| Peach Spritzer | 800 JPY |
| Kitty | 800 JPY |
| Kir | 800 JPY |
Soft drink
| | |
| --- | --- |
| Oolong tea | 500 JPY |
| Coca cola | 500 JPY |
| Ginger ale | 500 JPY |
| Cassis juice | 600 JPY |
| Orage juice | 650 JPY |
Sparkling Wine
| | |
| --- | --- |
| Tempus III Cava Brut | 4,800 JPY |
| Moet & Chandon Imperial | 9,800 JPY |
White Wine
| | |
| --- | --- |
| Panamera Chardonnay | 4,800 JPY |
| Louis Max Chablis Saint-Jean | 9,800 JPY |
| Cigalus blanc | 14,800 JPY |
Glass Wine
| | |
| --- | --- |
| Toso Brut Chardonnay(Sparkling) | 800 JPY |
| Pieroth Blue(White) | 800 JPY |
| Pascual Toso Cabernet Sauvignon(Red) | 800 JPY |
Red Wine
| | |
| --- | --- |
| Pascal Toso Cabernet Sauvignon | 4,800 JPY |
| Chateau des laurets | 7,800 JPY |
| Louis Max Bosharumu Pinot Noir | 9,800 JPY |
| Chateau Clark | 13,800 JPY |
| Cigalus Rouge | 14,800 JPY |
| Sequoia Grove Napa Valley | 19,800 JPY |